Wishing You The Best For Your Special Day!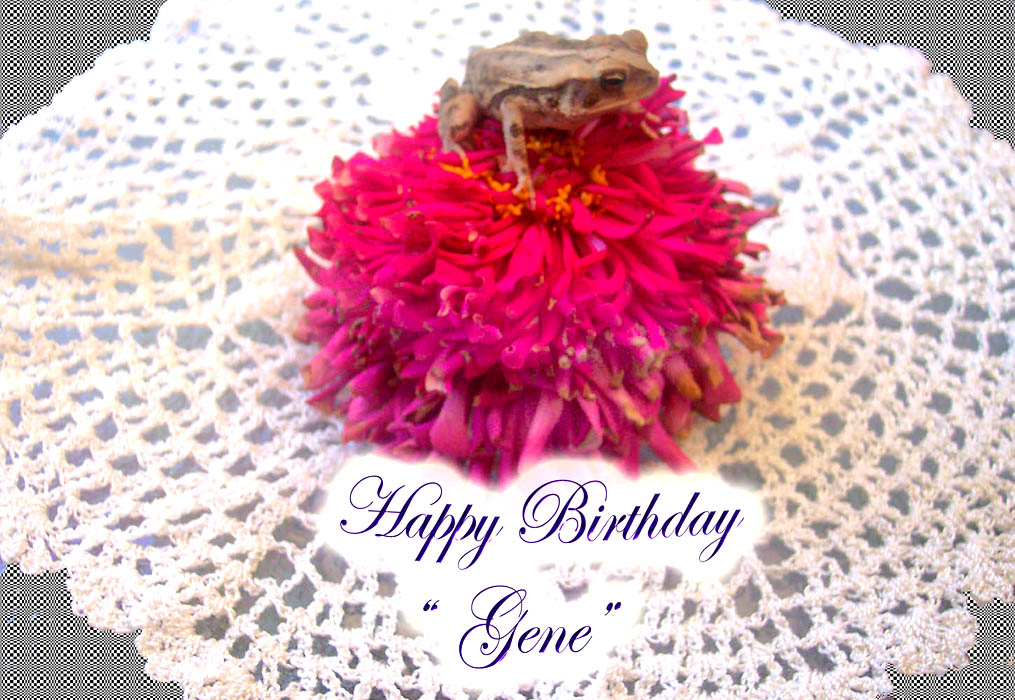 Ms.Rocker Website Hostess
Wanna check out "NaoKiss" awesome "KISS" Fan Page? Just click on the above banner picture and it will take you straight there!
"MEET "PHANTOM" THE TOAD!"
WITH PERMISSION, I AM POSTING MY CONVERSATION WITH A "KISS" FAN WHO ASSISTED ME IN NAMING ONE OF MY "TOAD" MODELS! "WINK"

PS: TKS, The Phantom of the Park FOR THE SUGGESTIONS..BUT HEY!!! HOW ABOUT "PHANTOM"! YA, KNOW WHY? BECUZ IT'S NOT OFTEN I SEE THIS ONE TOAD RE: IN THE PHOTO POSTED! (LOL) AND I FOUND HIM SITTIN ON TOP OF LEAVES BEFORE, I TOOK PICTURES OF HIM THAT DAY!

>>>PHANTOM <<< IT IS!!!! DING..DING..DING.. WE GOT A WINNER!

"PHANTOM OF THE GARDEN!" ((HA..HA...HA!)) TKS FOR POSTING A REPLY TO MY POST! HIGH'5

MS.ROCKER
THIS VIDEO HAS GUEST APPEARANCE WITH GENE SIMMONS! AND MANY SCENES ARE FILMED IN CHICAGO! CHECK IT OUT :)
>>>>FREE<<<<< PLACE YOUR ORDER FOR A FREE "KISS" CATALOG FROM THE "KISSMUSEUM.COM" IT'S PACKED WITH AWESOME ITEMS! HERE IS THE DIRECT INFORMATION PROVIDED FROM THE SITE:
KISS Museum Catalog Summer '07
FREE CATALOG FOR U.S. SHIPMENT ONLY.

IMPORTANT - In order to get this catalog for free, you must deselect the default "credit card" setting on the drop-down menu on the SHIPMENT SUMMARY page. Simply click the drop-down menu and select "phone/fax". You can then proceed to check-out without using a credit card. If, of course, you are buying other merchandise from the site, you can select "credit card" or "pay pal" to complete the purchase along with the free catalog.

32 full-color pages of all the new KISS T-shirts, books, toys and anything else related to the band. This catalog is a collectible unto its self.

ONE CATALOG PER CUSTOMER.
WE DO NOT SHIP THIS ITEM OUTSIDE THE U.S.,(we cannot afford to send a free item overseas, please understand).
There are no exceptions to the above for any reason, whatsoever.


$0.00
August 7th: Jeff Findley took some great photos of KISS at their recent Cisco Live performance.

See hundreds of Jeff's KISS photos!!! Click on the Demon photo to link to, Jeff's website.
Ps: I've personally asked Jeff if he would like to be my featured "KISS FAN" for 2007 and he said "YES"!!! How kewl is that!?! "wink" Stay tuned for updates when he will be featured for my site :)
August 9th, Awww...Man! The video of "Nickelback" that features "Gene Simmons" and other rockers and rappers, got deleted on "YouTube" Sh*t! (lol) I have read the video is now being featured on Vh-1 and M-Tv...the name of the song is called "RockStar" you'll have to check it out! It's awesome and in quite alot of the background scenes you can see my former hometown of Chicago! I actually lived in Chicago for about 2 yrs, actually I'm from the suburbs of Chicago. "wink"
August 9th: I ferget how I met DJ Yohan online, the other day...(lol) but he remixed a tune, together of Ludacris's song called "Stand Up" along with a KISS's song called "She" and man it f-en rocks!!!! I personally,wanna see a video that goes with this song! That would be awesome! PS: IT TAKES LIKE 30 SECOND FOR THE (PAGE) WITH THE SONG TO LOAD UP, ONTO YOUR SCREEN! IT'S REALLY WORTH WAITING FOR IT! DON'T THINK THE PAGE LINK IS BROKEN, BECUZ IT AIN'T!!!
Ms.Rockerxoxo
Wanna see more of Yohan? >click< on the photo above and it will take you directly to his "MySpace" page!
I ENJOY GETTING THE CHANCE TO CHAT WITH FOLKS FROM ALL AMERICA AND OTHER COUNTRIES AND REALLY WANTED TO CREATE A MYSPACE PAGE THAT MEANS ALOT TO ME AND THE ELECTION IN 2008 IS REALLY IMPORTANT TO ME AND TO ALOT OF FOLKS...WANNA REQUEST ME AS A FRIEND! JUST CLICK ON THE PAGE TO TAKE YOU TO THE SITE!