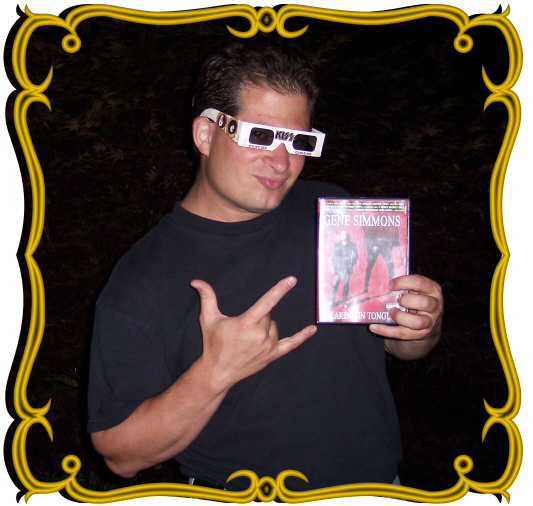 Our current Featured KISS Fan "Mr.Big O" has dedicated this honor to his fellow KISS Fan "Larry .M." whom has passed on from a cancer related illness.


An added note: Larry had requested that the day of his funeral, that his mother was to give, Mr.Big O his pair of 3-D glasses from the KISS concert that Mr.BIG O had invited him to. At that time Larry had been suffering from his cancer and was assisted by wheelchair to attend the preformance. Happy to say, that evening Larry became a KISS Fan for the every first time!


Mr. Big O is wearing the 3-D glasses in the photo above and always keeps them in the glove compartment of his SUV, in memory of his good friend "Larry".


Mr.Big O has been a KISS Fan since 1974, he is self employed at his own Company as a Contract Builder in the Chicagoland surrounding areas in Illinois. (Just so happens Mr.Big O is in the process of buying our property, that's how I met him) Mr.Big O is 40 years old and is married to a wonderful lady and proud parent of one daughter.


He also mentions Gene Simmons has been a big inspiration to him and how he conducts his business. Mr.Big O reccommends Gene's "Speaking In Tongues" DVD, that he holds in this photo.
~Photo of Mr.Big O, was photographed by Ms.Rocker~